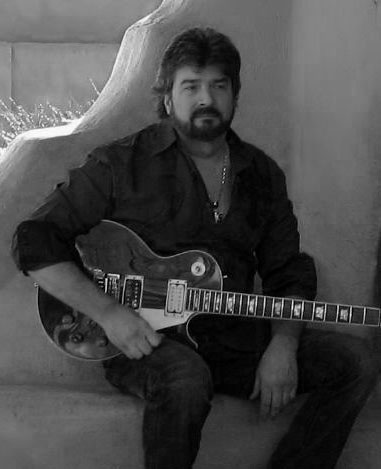 Danny Vash, a legendary rock artist under the Blue Pie label, left us in November 2020 due to pancreatic cancer. In 2023, his wife has lovingly shared some posthumous music releases, ensuring that his remarkable legacy endures. Here is the inspiring tale of how he became the beloved artist whose music continues to resonate with audiences even today.
Danny Vash, along with the dynamic duo of Nite Wolf from Albuquerque, New Mexico in the southwest of the United States, formed a three-piece power trio renowned for their hard-hitting sound. Danny Vash took the lead with his mesmerizing guitar work and commanding vocals, while Nite Wolf, consisting of Bill Weber on drums and Mike Alberts on bass, layed down the formidable rhythm section. Together, they unleashed a torrent of crunchy riffs, intricate melodies, and classic hard rock anthems. All of the music and lyrics are penned by Danny Vash himself. Their debut album, "Takin' Control," was meticulously recorded and produced at their studio, nestled in the scenic Sandia Mountains of New Mexico, showcasing their exceptional musical prowess.
Vash had musical roots that started in the San Francisco Bay Area. He has played with several of northern California's top hard rock and metal bands, before he moved to the south-west. He has shared the stage with a number of national acts and helped produce CDs for several local musicians in Albuquerque New Mexico. 2015 was a stellar year for the songwriter, as it provided many opportunities for him to belt out mind-bending songs with screaming guitar work, and strong vocals with catchy hooks.
Danny Vash and Nite Wolf paved their way into the global rock scene with their the success of their 2015 release "Takin' Control". The first song from the album won "Best hard rock song of the month" award with the Akademea of music in Hollywood California. The band's fan base was a rolling stone, and gained the trio global notoriety. Their song 'Passion Dreamer' was picked up by Berkshire Media Group and affiliates, along with the Akademea of music including radio program directors of various FM networks and worldwide networks. This was one of the key events that has been driving all the radio play for the trio, even after Danny's passing! With these two great companies behind Vash and friends, radio play happened fast and has not stopped.
All of this activity snowballed into increasing heavy rotation throughout 2015 for "Takin Control", and the momentum shows no signs of stopping even now. Good music gets played, and we now know that rock has a heart and soul firmly within New Mexico. Vash was committed to pushing his brand of hard edged rock to the world.
In November 2015, Danny was picked up by leading indie label Blue Pie Records USA and was signed to a global distribution and publishing admin agreement. The label dropped the second album in April 2016, called "Hard Life". The eponymous track of the album was treated to a hectic music video by another of Blue Pie's excellent multimedia artists, that being the one and only Soularflair.
This prowess has stuck firmly in our minds throughout the years, so that is why it is with heavy hearts we reflect upon Danny Vash's death. Upon discovering his pancreatic cancer, he was given 6 months to live. Just six months: that estimation proved to be fairly off the mark, as Danny received that news five years before he eventually passed, in November 2020. He was a titan of strength.
Danny Vash was an incredible fighter, and you can hear that best through the outlet of emotional expression that musicians all share, that of course being his music. "Hard Life" in particular tells you all you need to know in the title – he was never without struggles, but he was always a champ when he took them on, even his last struggle ever. He will be sorely missed, and has left behind a lasting rock legacy.
As the CEO of the label Damien Reilly says:
"It is refreshing to know that rock still lives in this EDM music age. Danny takes me back to 1976 when bands like Ram Jam, AC/DC, Cream and Led Zeppelin defined a generational sound. Danny brings passion and commitment to rock. You can't beat organic radio play. Danny and his music have proven that in today's rock world, good music gets played on radio. The new album 'Hard Life' is all the first was and more. You only have to play it once, and it digs music worms into your brain – you want more and more."
Danny Vash is a Blue Pie Records USA artist and available at all leading digital retailers on the planet, simply by searching Danny Vash or Nite Wolf. You can get all the latest news on Danny Vash and the legacy he has left his faithful listeners at the official Danny Vash site www.dannyvash.com
Highlights and Awards 2018
The song 'Hard Life' wins Best Rock Song Feb 2017 in the Akademia Music Awards
'Hard Life' is featured on Coast 2 Coast Mixtapes Presents: Coast 2 Coast Mixtape Rock Edition Vol.11

The song 'Hard Life' wins Best Rock Song in the CLOUZINE International Music Awards 2018 Spring
The song 'Passion Dreamer' receives global radio play with heavy rotation in the USA FM stations. Over 300 + stations now playing the song in the USA alone.
TAKIN' CONTROL wins "Best hard rock song of the month" award with the Akademea of music in Hollywood California.
Danny Vash gathers two indie song contest wins in the USA for 'Memory Of Me'
The song 'Stuck on You' follows on from "Passion Dreamer" and gets added to key rock genre stations and is now on over 200 + stations and growing.